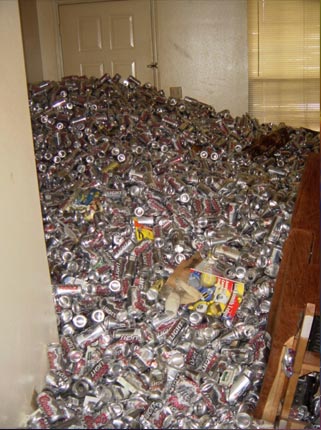 Editor's Note:
In these videos, YDO wears a hat fashioned from a beer case and celebrates with RJI & Brian.
Please go to http://www.youtube.com/user/ke6ydoCh2 and make a donation or click on the button below.
Robert Martin, born sometime in 1961, began working at the age of 15 as a truck driver when his dad got too drunk to drive. He was in a motorcycle accident at 17, resulting in a coma. After recovering, Martin worked as a security guard and also worked in an appliance warehouse/distributor/repair business for awhile. Martin is currently living in homeless obscurity on the streets of Los Angeles with his brother, Richard, who is an amateur radio operator (KE6RJI) and Robert's camera man. Robert exists on a meager social security income, hoping to find somewhere to live again.
Robert is a 50-year-old amateur radio operator (KE6YDO), who has fun making crazy YouTube videos—mostly because of homeless boredom and a desire to be "discovered" by … who knows? Robert is considering writing a book about his experiences on Earth and beyond. Stay Tuned!
Robert Martin is Secret Laboratory's West Coast Correspondent; email him at ydo@secretlaboratory.org and visit him at http://www.youtube.com/user/ke6ydoCh2.